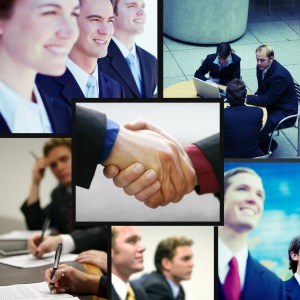 Published 1/16/2020 with Staffing Industry Analysts

Throughout any given organization, there's a variety of generations creating their own definition of work and what it represents.
Within the next year or two, 50% of the total workforce will be millennials, and 20% of workers will be Gen Z. Furthermore, 29% of boomers are still looking for work or working — further proving that they're staying in jobs longer than any other generation to date. Each of these demographics has different desires, proclivities, and goals when it comes to how they work. For example, millennials place value on contributing to the greater good and being social in the workplace, whereas boomers are comparatively independent and work-centric.
Ultimately, this means businesses need to adapt. One option that is on the rise is converting to a blended workforce.
What is a Blended Workforce?
A blended workforce is said to encourage the most diversity in the workplace. It combines all forms of employment: full-timers, part-timers, temporary employees, contractors, freelancers and gig workers.
A blended workforce is not a new concept. In fact, according to a recent study, 93% of companies already employ a blended workforce, which includes employing both full and part-time workers, and 40% of companies plan to hire more freelancers as part of their blended workforce.
This blend of employment types opens companies for a more diverse range of team members and saves money on traditional staffing. More millennials, for instance, are choosing to freelance than ever before, while retired boomers are realizing their level of expertise has value. In fact, 30% of 55-year-old-plus workers freelanced in 2018.
Freelance. For employers, hiring freelancers means that you still have the skilled team members needed without the traditional payroll taxes or healthcare expenses. Meanwhile, you are only paying for the work completed rather than countless hours that traditional employees may spend unproductively.
Gig. Gig-workers depend on temporary, project-based employment, paying differently than a standard employment agreement. Typically seen in younger generations, 38% of 18-34-years-old are considered gig workers. This type of employment option benefits companies whose short-term goals can be carried out by precise projects and action plans.
Temp. Temporary employees are those who are hired for a limited time through a staffing agency, or who have been hired with a specific end date specified. Over the course of a year, at least 15 million people are hired through temporary staffing agreements with temp agencies, and this workforce is primarily comprised of millennials and Gen X-ers.
Contract. Much like temporary employees, freelancers, and gig workers, contract workers may have a specified end date and are typically contracted to perform only certain tasks. Contractors are primarily made up of boomers and millennials who are looking for more flexibility.
PREMIUM CONTENT: US Pay Rate Rangefinder: 2019 Edition
Who Benefits?
Having a blended workforce can be extremely beneficial for businesses, but it has its risks as well. A blended workforce can save an organization money, lower taxes, and allow more flexibility with benefits because recruiters will often handle these aspects for a contractor. However, without the right tools in place, a blended workforce can become confusing and difficult to maintain. Projects can fall behind the deadline without a consistent team, and communication can suffer.
To ensure that any blended workforce can succeed, it is essential to have stable management with the skills needed to manage different types of workers and projects. To make the right decisions, management needs the right tools to access the information they need. Management needs to know a candidate's cost, rate cards, skills, and overall quality to help them make the right hiring decision for each project. For example, with the right tools, management can go from spending $200 for a programmer who sits in the office to $50 for a programmer who works out of the coffee shop down the street.
Things are never perfect, of course. Each employment type comes with their own set of challenges. Managing a remote worker or team makes it more difficult to foster a team's relationship that can extend company culture. However, with a blended workforce, you gain a wide range of talent and open your business to global talent.
How To Start
Managers who capitalize on the direction of this new workforce will be able to scale their business more effectively. They won't be tied down to training only full-time workers. Instead, it's possible to pick and choose what kind of tasks require a specialist, part-time, or full-time employment.
When blending a workforce, it is vital that communication is transparent across the board. Making sure that contractors, in-house staff, and temporary employees know deadlines and who they should contact with questions on any given project will ensure that things are being done and that your team is working efficiently.
It is also important to make sure that everyone understands their own role and the roles of others. It can be frustrating when a contractor thinks a full-time employee is responsible for more of the project than agreed upon, or when a full-time and part-time employee have the same expectations placed on them. No matter the generation you are working with, keep the team aware of their roles.
Any organization that is employing a blended workforce also needs the right tools to help them see the overall picture. Look for a VMS that can give managers or project managers access to the budget, time tracking, SOWs and tasks to help keep the blended team on track.
A blended workforce can take your business to the next level, all while allowing a multi-generational and diverse team to work together. With the right tools, it can bring your business to success.